Harris Insulation

For nearly 40 years, Harris Insulation has been Arkansas' leading insulation contractor, providing quality services to both residential and commercial properties. As a family owned and operated business, we pride ourselves in building strong customer relationships and delivering outstanding results.
Insulation in Little Rock, AR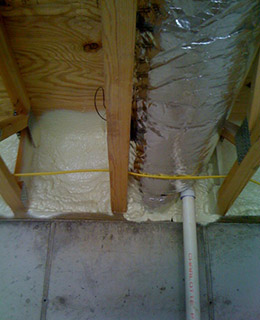 There are few investments better than quality insulation for your home or business. By insulating your building, you can immediately feel the difference in your comfort and in your wallet. Well-insulated buildings are less affected by the elements, which allows you to save money on air conditioning in the hot summer months and heating during winter cold snaps, reducing your utility bill to a quarter of its size. At Harris Insulation, we appreciate the value of quality insulation in Little Rock, AR. Since 1978, we have been servicing the insulation needs of residential and commercial clients and building a reputation as an honest and reliable contractor.
We specialize in insulation installations, including open and closed cell foam, cellulose and fiberglass insulation. Though we primarily serve residential customers, we are also able to provide light insulation services to commercial properties. If you're not sure if you need insulation, allow us to conduct a free energy analysis that will inspect your energy usage and areas of waste through infrared camera scans, blower door tests and air sealing. As a fully licensed, insured and bonded contractor, you can trust our professionalism and expertise. Customers choose us for residential home insulation in Little Rock, AR, because:
We provide outstanding insulation services for residential and commercial clients.
Our business is Certified with Building Performance Institute, Inc. (BPI).
We are Better Business Bureau accredited.
We are family owned and operated.
We have nearly 40 years of experience installing insulation.
Service Areas
Proudly providing quality insulation services to the following areas:
Cleburne, AR
White, AR
Lonoke, AR
Pulaski, AR
Garland, AR
Hot Springs, AR
Prairie, AR
Monroe, AR
Jefferson, AR
Grant, AR
Perry, AR
Faulkner, AR
Jackson, AR
Independence, AR